Addressing 6 Myths About Personality Disorders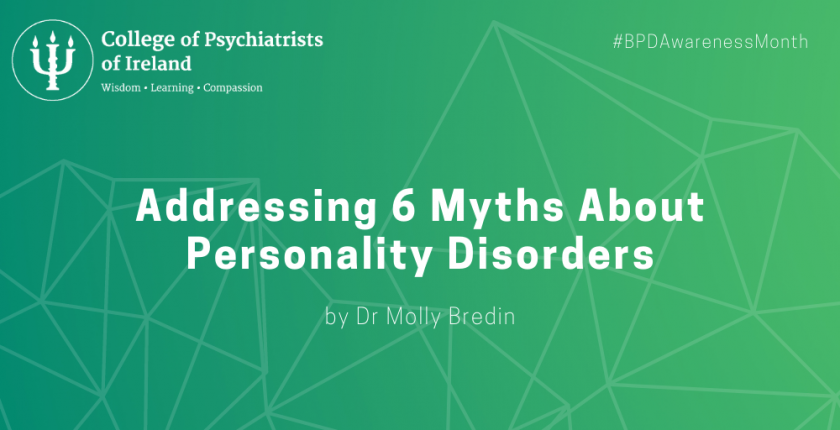 As part of our information series marking Borderline Personality Disorder Awareness Month 2022, Dr Molly Bredin, HST trainee and Vice-Chair of the CPsychI Personality Disorders Special Interest Group, addresses common myths surrounding personality disorder.
Public discussion and media depictions of personality disorders have been increasing over the last number of years, and while increased recognition is welcomed, it is important to address common inaccuracies about why personality disorders exists as a diagnosis and what can be done to help those diagnosed.
Myth 1: All people with personality disorder experience extremes of emotion and impulsivity
These are just some of the features seen in some personality disorders. Borderline personality disorder, the most well-known and researched personality disorder, can present with these symptoms. But other personality disorders may be more associated with anxiety (anxious personality), being excessively aloof or withdrawn and finding it very difficult to express emotion (schizoid personality), or having rigid or perfectionistic thinking (anankastic personality). Many of those with recurrent episodes of depression or anxiety that are very difficult to treat may meet criteria for a personality disorder. In reality we know that there is often overlap between different personality disorders and people with one personality disorder diagnosis will often meet criteria for others. In making any diagnosis, psychiatrists typically take into account biological, psychological and social factors in a person's life as well as being guided by diagnostic manuals. A new version of the diagnostic manual many psychiatrists use, the ICD-11, addresses the issue of diagnostic overlap and focuses on the severity of the personality disorder and the traits that are particularly dominant rather than distinct separate personality disorders. However, it does retain the diagnosis of a borderline personality 'pattern.'
Myth 2: Personality disorder is untreatable
There are now several evidence-based psychotherapy treatments for personality disorder, with borderline personality disorder being the most studied. The effects of treatment vary – some studies show a reduction in the incidence of behaviours associated with the disorder such as self harm and suicide attempts while some can result in marked reductions in symptoms to the point of no longer meeting diagnostic criteria for the disorder. Other studies focus on reduction in use of healthcare services and cost effectiveness and have shown favourable results compared to 'treatment as usual' which often involves medication, crisis admissions, and prolonged hospital stays. As well as treatment for personality disorder, psychiatric assessment can identify other mental illness such as depression or anxiety disorder which may benefit from medication or other help. A common treatment for personality disorder in Ireland is Dialectical Behavioural Therapy but there are many others such as Mentalization Based Treatment, Cognitive Analytic Therapy and Schema Focused Therapy. For more information on the treatment of personality disorder, check out Dr Paul Matthews' blog piece.
Myth 3: Those with personality disorder are manipulative or can't be trusted
Fact: Many of those with a diagnosis of personality disorder do not engage in manipulative behaviours and others without personality disorder can behave manipulatively. Just as it would be inaccurate to say that all people who are depressed lose their appetite, no behaviours or symptoms can ever be attributed to a diagnosis in a generalised way. Personality disorders, such as borderline personality, are often associated with growing up in environments where a child's emotional needs were not met and so those with personality disorders sometimes have learned to engage in more extreme behaviours to elicit help and care. While these might be labelled as 'manipulation' it may well not be conscious or intended to cause hurt by the person and may instead be an undeveloped way of using their environment and relationships to make them feel safe or in control. Manipulative behaviour may be very difficult to bear for the loved ones of a person with personality disorder or for healthcare professionals and it can be helpful to first think about what purpose underlies this behaviour in order for the person to move towards more healthy ways of relating to others.
Myth 4: Personality disorder is always obvious from a young age and is lifelong
Fact: While typically the features of personality disorder will be evident from adolescence, we now recognise that the full extent of personality disorder may only present in middle age or later in life particularly following a difficult life event or adjustment to new life circumstances. Those with personality disorder may rely on coping and defence mechanisms which allow them to 'hold it together' until a life event overwhelms these mechanisms and distress and problems with managing day to day life emerge. The most up to date diagnostic manual, ICD-11 acknowledges this.
For other people, the strengthening of coping skills in response to life experiences, development of a stronger sense of personal identity and environmental change may cause the features of personality disorder to become less prominent as they age and we now know that many people will no longer meet the criteria for a personality disorder over time even without treatment.
Myth 5: People with personality disorder require admission to hospital to remain safe
It is generally accepted by psychiatrists that inpatient psychiatric admission has a limited role in the treatment of personality disorder which typically requires longer term psychological inputs. Admission to hospital can actually cause self-destructive behaviours, or conflict with others to escalate, particularly where staff are not adequately trained. Personality disorder is associated with significantly elevated risk of suicide and so brief crisis admissions may be necessary in order to manage acute increase in suicidal risk – however, the emphasis should always be on ensuring the person is linked in with a longer-term evidence-based therapy for personality disorder. Unfortunately, the availability of evidence-based treatments for personality disorder in Ireland is patchy which can lead to repeated reliance on crisis admissions to manage suicide risk. For more information, please read the College of Psychiatrists Personality Disorder Special Interest Group Position Paper here.
Myth 6: People with personality disorder are dangerous
Fact: It is estimated that two thirds or more of prison inmates have a diagnosis of personality disorder and it's important that the criminal justice system acknowledges the often-traumatic origins of these disorders. However, it is important to emphasise that the majority of those living in the community with personality disorder are not violent or dangerous. This myth is related to the general misconception that those with a serious mental illness are much more likely to be a risk to others . Myths like this can perpetuate mental health stigma and actually worsen barriers to the provision of adequate treatment services.
Resources:
Development of Treatment for Personality Disorder in Adult Mental Health Services – Position Paper by the CPsychI Personality Disorders Special Interest Group
Symptoms, Causes, Treatment and Diagnosis – HSE Ireland,  Information on Personality Disorder
PersonalityDisorder.org.uk – Developed by the UK Department of Health.
About Borderline Personality Disorder – Mind, Uk-based mental health charity
Personality disorders: symptoms, treatments, self-care – resource by MindWise, mental health charity in Northern Ireland
Borderline Personality Disorder can be treated and achieve 'good response – Article by Priscilla Lynch
The Wrong Kind of Mad podcast – Hollie Berrigan and Keir Harding talk about issues associated with "personality disorder".