BPD Awareness Month 2022 – Mentalisation Based Treatment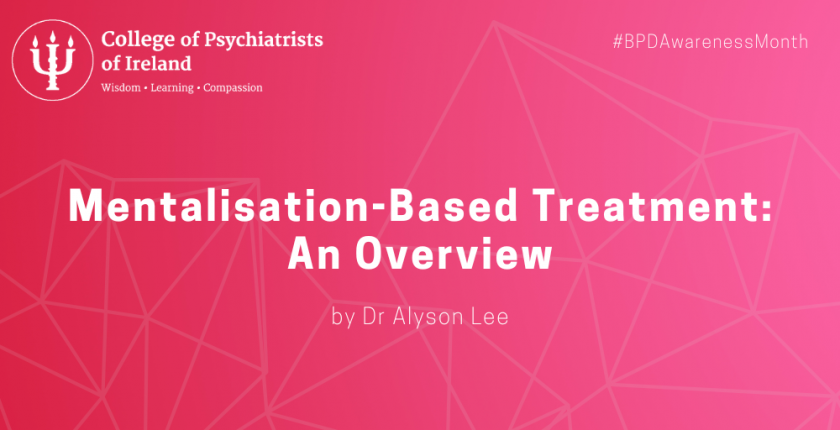 Dr Alyson Lee, Consultant General Adult Psychiatrist and a past Chair of the CPsychI Personality Disorder Special Interest Group, provides information on Mentalisation-Based Treatment (MBT), an evidence based model of psychotherapy that is effective in the treatment of borderline personality disorder as well as other mental disorders.
This article is part of our information series marking Borderline Personality Disorder Awareness Month this May. You can read more in the series, which includes a lived experience perspective, below this post.
Mentalising is a form of imaginative mental activity that we all use in everyday life and underpins all human relationships. Mentalisation is not a new concept but in the last twenty years, it has been used as a focus of treatment for people with borderline personality.
Mentalisation involves the capacity to recognise one's own mental states and those of others as meaningful – based on thoughts, feelings and attitudes.
Research has shown that people with borderline personality are less effective at mentalising than other people. They can have difficulty in reading other people's responses to them and are more likely to jump to the wrong conclusions about others' intentions: 'maybe' becomes 'definitely'; 'I wonder' becomes 'I know'. This 'mind reading' can cause problems in relationships and contribute to acting impulsively.
People with borderline personality disorder also find it difficult to mentalise their own feelings and thoughts, which can contribute to a person feeling unsure of who they are or what they want, can lead to self-destructive behaviours, and greatly exacerbate low mood and feelings of emptiness.
Treatment with Mentalisation-Based Treatment (MBT) aims to improve a person's capacity to mentalise.
By focusing on what is going on in their mind and in the minds of others, it improves understanding and reduces problematic patterns of relating to themselves and other people.
MBT usually involves a combination of individual and group therapy over a period of twelve to eighteen months. The first part of the programme is educational, explaining the model, and this is followed by a year or more of therapy.
Currently, MBT is only delivered in a few areas in Ireland. However, with the recent establishment of the HSE Model of Care for Talking Therapies, we hope that there will be greater availability of therapies for borderline personality, including MBT, in the coming years.
Borderline Personality Disorder Awareness Month 2022 – Blog Series:
What is Borderline Personality Disorder – by Dr Paul Matthews
Addressing 6 Myths Around Borderline Personality Disorder – Dr Molly Bredin
Treatments for Borderline Personality Disorder – by Dr Paul Matthews
Dialectical Behaviour Therapy: A Clinical Overview – by Dr Navroop Johnson
A Lived Experience Perspective of Borderline Personality Disorder – Anonymous
Further Resources:
Development of Treatment for Personality Disorder in Adult Mental Health Services – Position Paper by the CPsychI Personality Disorders Special Interest Group
Treatment for BPD – HSE Ireland
Information on Dialectical Behaviour Therapy – HSE Ireland
Symptoms, Causes, Treatment and Diagnosis – HSE Ireland,  General Information on Personality Disorder
PersonalityDisorder.org.uk – Developed by the UK Department of Health.
About Borderline Personality Disorder – Mind, UK-based mental health charity
Personality disorders: symptoms, treatments, self-care – resource by MindWise, mental health charity in Northern Ireland
Borderline Personality Disorder can be treated and achieve 'good response – Article by Priscilla Lynch
The Wrong Kind of Mad podcast – Hollie Berrigan and Keir Harding talk about issues associated with "personality disorder".