Celebrating 5 Years of Hot Topics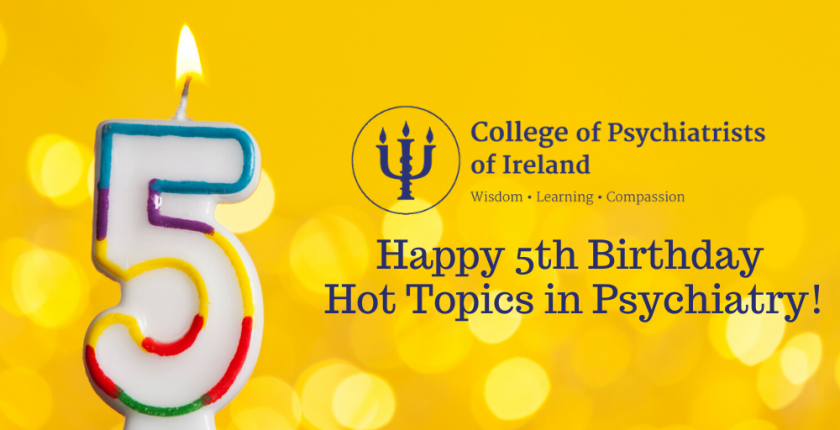 On Thursday, 13 February, the College hosted the 5th Anniversary celebration of its Hot Topics series, with presentations on two emerging issues within psychiatry: Gambling Disorder – An update for clinical practice by Professor Colin O'Gara and Game On! Is gaming a lifestyle or a disorder? by Dr Gerry McCarney
70 people attended the 5 year anniversary celebration, with all presentations on the night very well received.
You can views photos and information from the event and comments from the attendees below, as well a round-up of Hot Topics over the last five years below.
Hot Topics began with an idea by Dr Jackie Benbow, General Adult Psychiatrist and College member to develop short educational and professional development opportunities for College members experiencing an increasingly busy working environment and facing challenges in fulfilling their professional learning obligations. Hot Topics began in 2015 and developed into a series of CPD approved meetings running one Thursday evening a month from September to April. Hot Topics meetings offer two presentations and discussion over two hours, with two CPD Credits. Many of the meetings are recorded and available online to College members as CPD approved eModules. In the 5 years Hot Topics has been running, there have been:
| | | |
| --- | --- | --- |
| 45 meetings | 93 speakers | 90.5 CPD credits issued |
| 3 locations | 2,096 seats filled | 716 unique attendees |
| | An average attendance of 48 people per meeting | |
See more about 5 years of Hot Topics below:
Professor Colin O'Gara's discussion on gambling disorder covered the developments since its first discussions in academic papers as 'problem gambling' to its understanding now as a process addiction and disorder characterised by unrealistic optimism and significant social and health costs. On the presentation, one attendee found that it "brought attention to an 'iceberg' issue, one that is so covert we are not yet seeing the extent of the disability caused."
Dr Gerry McCarney spoke on gaming disorder and addiction. Gaming disorder is classified as a distinct disorder in the ICD-11, marked by a pattern of gaming behaviour of such a nature and intensity that it results in marked distress or significant impairment in personal, family, social, educational or occupational functioning. One attendee called the presentation "important and relevant, very informative and educational. Dr McCarney's presentation was so interesting and eye-opening!"
The Hot Topics evening was generally agreed by attendees to be richly informative on the topic of modern, technology-related psychological problems.
To see all our upcoming Hot Topics in Psychiatry events across the country, click here.