Poster and Oral Prize Winners – Winter Conference 2020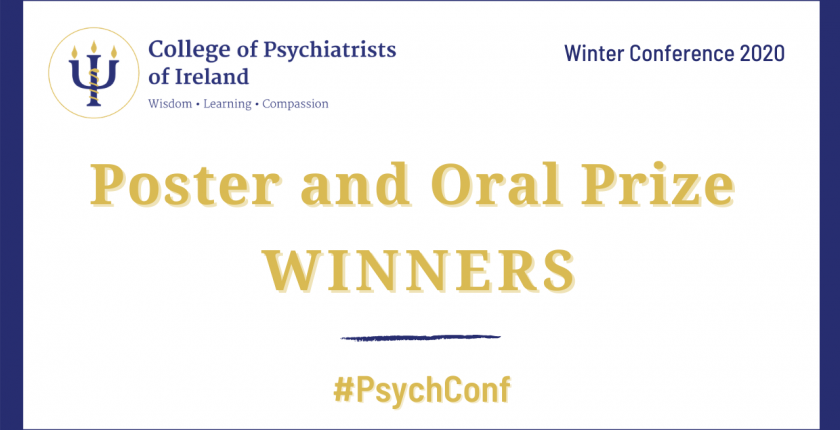 The Online CPsychI Winter Conference 2020, titled Future Proofing Psychiatry featured announcements of the poster winners throughout the day.
Conference delegates can access all the posters through the Winter Conference 2020 page.
NCHD Poster Presentation Winner

THE RELATIONSHIP BETWEEN OBESITY AND DEPRESSION IN INDIVIDUALS AGED 57-77: A CROSS-SECTIONAL ANALYSIS OF THE 2015 MITCHELSTOWN COHORT RESCREEN
by Dr Caoimhe Ni Lonargain, Dr Sean Miller, Dr Zubair Kabir
Medical Student Poster Presentation Winner:

CORTISOL AWAKENING RESPONSE IN PATIENTS WITH SOCIAL ANXIETY DISORDER
by Annabel Umeh, Mary Butler, Sabrina Mörkl, Caitriona Long-Smith, Cerard Clarke, John F. Cryan, Timother G. Dinan
Highly Commended Medical Student Poster:

CHANGES IN BMI AND RISK OF ADOLESCENT PSYCHOPATHOLOGY; A LONGITUDINAL COHORT STUDY
by Isabel Cotter, Colm Healy, Ross King, David Cotter & Mary Cannon
Trainee Oral Presentation Winner:

PROCEDURAL JUSTICE FOLLOWING INVOLUNTARY PSYCHIATRIC ADMISSION: A PROSPECTIVE COHORT STUDY
by Dr James McLoughlin
Highly Commended Trainee Oral Presentations:

THE YOUNG ADULT SERVICE: AN EVALUATION OF A YOUTH MENTAL HEALTH SERVICE IN THE INDEPENDENT SECTOR IN IRELAND. EVALUATION OF A YOUTH MENTAL HEALTH SERVICE IN IRELAND
by Dr Laura Bond
SUPPORTING THE TRANSITION FROM MEDICAL STUDENT TO DOCTOR: EVALUATION OF AN EDUCATIONAL, ONLINE WELL-BEING INTERVENTION, FOR INTERNS IN IRELAND
by Dr Niamh McCarthy
Congratulations to the winners and thank you to all participants!