Dr Gerry McCarney on RTÉ Primetime: Gaming Addiction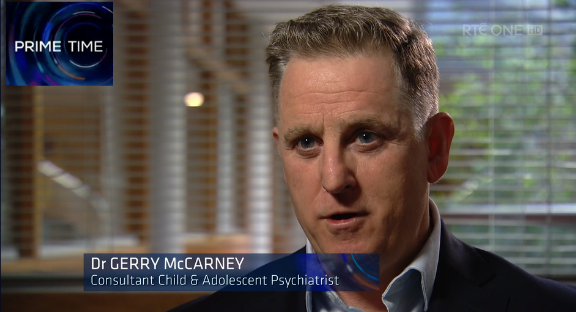 Dr Gerry McCarney, Consultant Child and Adolescent Psychiatrist and Chair of the College Faculty of Child and Adolescent Psychiatry, appeared on an RTÉ Primetime report to discuss gaming addiction 28/02/2019.
Last year the World Health Organisation (WHO) classified gaming addiction as a mental health disorder. Amid parental concerns about Fortnite, a popular online video game (played by 200 million around the world), Primetime looked at the game from various view points while raising the detrimental consequences on the well being of children and adolescents. Dr Gerry McCarney was among a variety of contributors to the piece including parents and a teenager.
Gaming addiction is a 'compulsion loop' explained Dr McCarney, where young people may feel they are doing well but want to go back for more. This game makes it very easy to re-enter into a new game, even when they have just completed it. It is addictive as they tend to play more than the time period they had initially put aside for it.
Dr McCarney notes that on the more severe end of the consequences of online gaming, young people will begin to lose things such as friendships and jobs, they stop going to school and may not have even left the house for weeks or months.
Dr Harry Barry, a GP who specialises in adolescent mental health, also expressed his concerns about what age children start to play video games. He asks about the long term effects on youths, when a child at age 9 is playing a game which states the minimum age to be 12.
"The impulse control of a child at say age 10 up to ages 13 is poor and there is much research to show the negative effects of gaming in young people, as they are much more likely to become addicted to other substances and activities later in life.
Their impulse control at that age is at its lowest and this can create a very dangerous situation is not brought under control and regulation" Dr Barry explained.
The College Faculty of Child & Adolescent Psychiatry plans to set up a special interest group to look into the effects of the internet and excessive gaming on young people.
(The interview begins at 15.22 minutes and Dr Gerry McCarney features at 22 minutes)