Free IJPM articles for World Mental Health Day 2017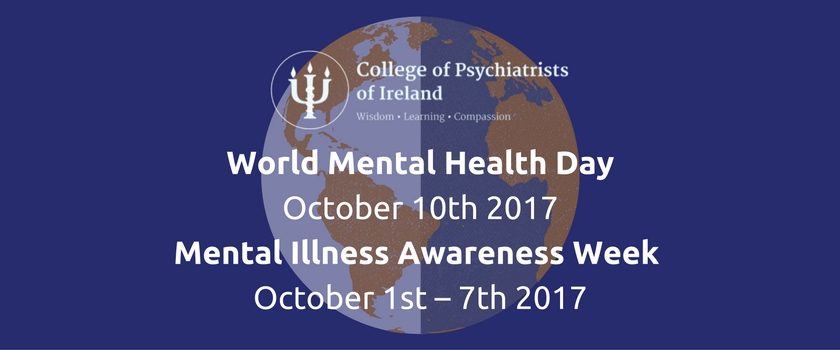 For Mental Illness Awareness Week and World Mental Health Day, the Irish Journal of Psychological Medicine is providing free access to a selection of journal articles for the full month of October 2017.
Heightened awareness of concepts relating to both mental health and mental illness are essential to ensure that appropriate and well resourced mental health services are provided for those in need. Highlighting these concepts also has the potential to reduce mental health stigma across society. World Mental Health Day (October 10th 2017) and Mental Illness Awareness Week (October 1st – 7th, 2017) offer an excellent opportunity to make a concerted effort for mental health advocacy, which can ensure that mental health remains firmly on the agenda of policymakers across all geographic regions.
Irish Journal of Psychological Medicine (IJPM) are proud to participate in mental health advocacy efforts and will strive to advance the needs of those with mental health difficulties. The journal has continued to publish innovative research of high scientific merit with the objective of improving clinical practice and mental health service development. We are committed to keeping the field of mental health vibrant and relevant by publishing research on novel topics as well as by keeping clinicians updated on important advances in psychiatry.
As the official research journal of the College of Psychiatrists of Ireland, IJPM has a strong position in psychiatry both in Ireland and internationally. The journal has recently sought to highlight important topics such as coercion among mental health users, and the needs of young people facing mental health struggles. We will continue to use our forum to advocate for improved mental health service provision by publishing research which can impact on national and international policy. With such a progressive focus the journal provides important reading for clinicians, researchers, policymakers, and all with an interest in mental health.
In keeping with our commitment to disseminate knowledge to a wide geographical audience, we will be providing free access to a selection of articles (along with other related journals and books) for the month of October. These articles emphasise some of the challenges facing mental health reform and highlight recent innovation in clinical and service development. We hope you enjoy this series of articles, and furthermore hope it inspires to advocate for better mental health services for those in need.
To read the free articles please click here for the archive of all IJPM issues and look for the green button.