Job Vacancy: Postgraduate Training Administrators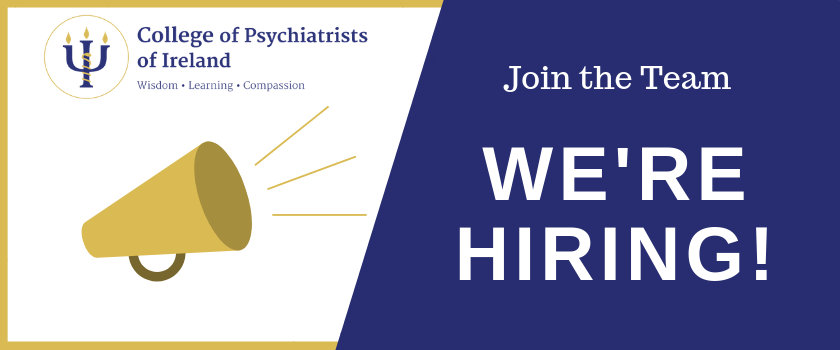 Job Vacancy
Job Title: Administrators
Reporting to: Postgraduate Training Department / Accreditation and Continuous Assessment
The College of Psychiatrists of Ireland is a professional membership organisation recognised by the HSE and Medical Council for delivering training in Ireland for Psychiatrists.  It also has an advocacy role to advise on better mental health services in Ireland.
The College is currently recruiting for administrators in its Postgraduate Training and Education Department.
---
JOB PURPOSE:
To provide administrative and organisational support within the Postgraduate Training Department.
---
KEY RESPONSIBILITIES:
The successful candidate's role will include administrative assistance with the organisation & delivery of:
The implementation of the Basic and Higher Specialist Training Programmes in Psychiatry.
The accreditation of the BST and HST specialist Training Programmes in psychiatry
Recruitment competitions in relation to Basic and Higher Specialist Psychiatric Trainees.
The College examination.
Other duties, as required, in relation to ongoing Department functions, e.g. Trainee Curriculum, Assessment, Examination or Accreditation issues.
---
PERSON SPECIFICATION
Essential Skills:
Experience of working both in a team and on own initiative, flexibility is essential.
Excellent oral/written communication skills and interpersonal skills.
Outstanding organisational, prioritization and multi-tasking skills with a proven ability to work under pressure to achieve goals within agreed timeframes.
Strong attention to detail.
Evidence of managing own workload and involvement in projects.
Proficiency in Microsoft Office.
Desirable Skills:
Knowledge of, or experience working in, a postgraduate training environment.
Previous experience in database management processes.
A relevant 3rd level qualification.
---
To apply for this role please send a CV and cover letter with details of your relevant experience and suitability for the role to the Chief Executive at msilke@irishpsychiatry.ie
Employment at the College of Psychiatrists of Ireland
The College is an equal opportunities employer.
35 hour working week
20 days annual leave per year plus bank holidays and Christmas closure period.
More information about the College is available on the website: www.irishpsychiatry.ie