"Mind on Fire": A Memoir of Madness and Recovery, by Arnold Fanning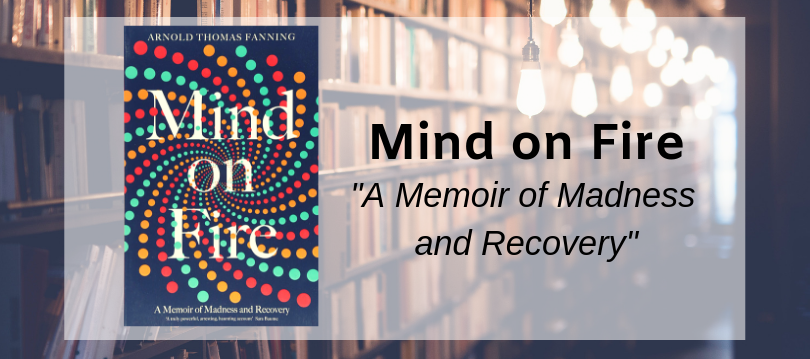 "Mind on Fire: A Memoir of Madness and Recovery" is a coherent and gripping account of severe mental illness and recovery. This book review was written by Dr Eric Roche, Consultant Psychiatrist.
A colleague recommended Mind on Fire to me because its author had once accessed support in the mental health service in which I currently work. I was on the lookout for another account of bipolar disorder that I might be able to recommend, so all the more reason to review it. As it turned out, Fanning's multiple relapses of mania, depression and psychosis brought him into contact with a number of mental health services in Dublin, Northern Ireland, New York and London.  It is a detailed, honest and at times painful account of Fanning's struggle with a severe bipolar mood disorder. Given that he wrote the book, is in itself a testament to his recovery (Fanning also wrote the stage play McKenna's Fort) although the prospect of hope seemed remote during the depths of his psychosis and suicidality.
Mind on Fire has three sections; the first of which provides an outline of Fanning's earlier life, the onset of his depression and development of mania. He doesn't pull any punches in reflecting on his own shortcomings, nor those of his father and this relationship is one that he returns to throughout the book. Fanning researched his biography extensively by accessing medical notes and interviewing various sources; the result is a vivid and detailed account of his mood disorder. He describes the unravelling of his artistic ambitions – and his life more generally – with the onset of mania and psychosis.
Fanning's first admission is to the Tyrone and Fermanagh Hospital, and in relatively quick succession to two Dublin-based hospitals; St Vincent's University Hospital and St John of God Hospital. From a psychiatrist's perspective it is interesting to read of the contrasting experiences he had in each of these institutions, with some insights into the nature of patients' interactions and drug use on inpatient units.
The second section of the book deals with Fanning's move to New York, back to Ireland and onward to London with each move associated with at least as many relapses. He had questioned his diagnosis, and engaged in different treatment plans in different centres, with a predominant focus on psychotherapy for long periods. Indeed, there appeared to be a strong psychological component to his illness, which was no doubt influenced by an invalidating paternal relationship and an intense and sometimes dependent pattern of interpersonal interaction. Although he doesn't explicitly refer to it, the title Mind on Fire is likely to be a nod (and psychological equivalent) to Susannah Cahalan's Brain on Fire which describes a devastating episode of anti-NMDA receptor encephalitis that presented as mental illness. There was, however, a clear biological component to his disorder. His relapses range from severe depression and suicidality to elation and psychosis.
Fanning's time in London was perhaps the most dramatic marker of his mental decline and was quite gripping to read; he descended into a state of persistent mental illness, sleeping rough, homeless, having run-ins with police and in declining physical health for a number of months.
The third section of Fanning's book deals with his return to Ireland and eventual recovery through engagement with mental health services, family support and meaningful occupational activity. He details his recovery with the same honesty as he did his period of illness, although by necessity this section of the book lacks the gripping nature, the devastation and the drama of the second part of the book. The process of recovery, by contrast, was at times dull and ground-out, although Fanning ultimately achieves something extraordinary through this process.
There is little to detract from this book as an account of mental illness and recovery although it might be a rather overwhelming read for somebody who has experienced a first manic episode. Certainly, recommended reading for clinicians or those with established or enduring mental disorders.