Over 50 attend REFOCUS Mind Reading workshop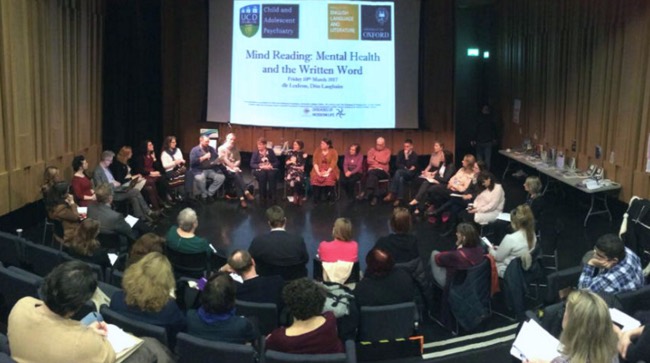 Over 50 people gathered in the LexIcon Library main auditorium to attend the REFOCUS workshop as part of the Mind Reading – Mental Health and the Written Word Conference on March 10th in Dun Laoghaire.
In collaboration between UCD Child & Adolescent Psychiatry and Oxford University, the event included talks and workshops which explored productive interactions between literature and mental health both historically and in the present day. Bringing together members of the public, psychiatrists, psychologists, interdisciplinary professionals, GPs, users of mental health services, and historians of literature and medicine, the day featured lively discussions on literature as a point of therapeutic engagement and how to improve the wellbeing and communication skills of healthcare providers, patients and family members.
The REFOCUS workshop was facilitated by Dr Anne Jeffers, REFOCUS Co-chair, and was highly interactive with lots of engagement and questions from the audience. REFOCUS members Rick Rossiter, Julie Healy, Christine McCabe, and Brian McNulty spoke about their diverse relationships with literature and the different influence it has had on each of them. Brian McNulty also provided rich topics for discussion in reading excerpts from his own published memoir Embracing Sanity: one Man's Footsteps.
The College also contributed to the Mental Health Exhibition and "Lived Lives", a two-month long display in dlr LexIcon Library focused on mental health, with helpful information for the public on what psychiatry is, the role of REFOCUS in the College and their work completed so far.
The one-day event also included talks from various healthcare professionals, academics and historians including Prof Jim Lucey, Medical Director of St Patrick's Mental Health Services, who provided an engaging Keynote address proposing that everyone is a patient at some point in their life and sees the need to retell and hear stories as key to engagement and care. Other highlights included the second Keynote address from Prof Fergus Shanahan, Professor and Chair of the Dept of Medicine in UCC, who cited James Joyce Dubliner's to illustrate how literature can give us an insight into past and present medical practices and attitudes to care. Prof Sally Shuttleworth, Professor of English Literature at Oxford University also provided some interesting insights into early medical case studies in literary texts, and event organiser Dr Elizabeth Barrett, Caroline Ward, and Dr Niamh Geaney presented on clinicians experience of using literature in practice.