Public Health Alcohol Bill returns to the Seanad after a year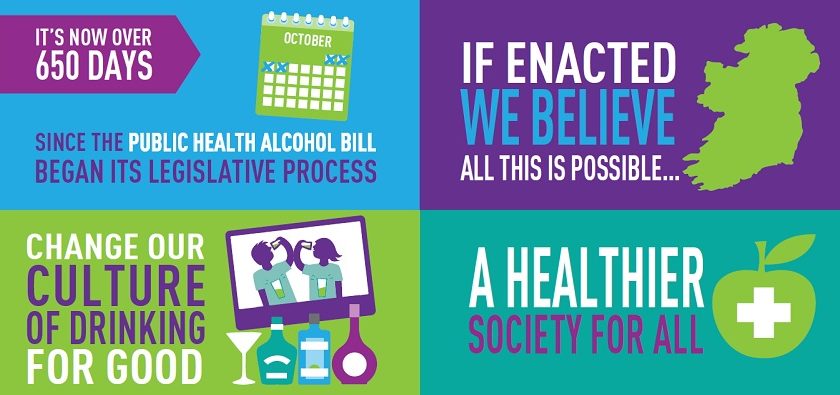 The Public Health (Alcohol) Bill will return to the Seanad for debate tomorrow after the legislation was stalled for over a year reported the Irish Times last week.
"The legislation was stalled in the Oireachtas last year due to a number of concerns raised by Fine Gael TDs and Senators, in particular about the requirement on retailers to hide alcohol from display. In an amendment proposed by Minister for Health Simon Harris, small shops will now be given the option of keeping alcohol products in view but the Bill will insist that it must be confined to a maximum of two storage units. The proposal caused significant concern among Fine Gael members, who insisted it would place a significant financial burden on small shop owners."
Minister Harris said this was a landmark piece of legislation that required the support of all political parties.
As a country, we have already shown that public health legislation in the area of tobacco can work, now let's do the same for alcohol," the Minister told The Irish Times.
"Legitimate business concerns in relation to small shops, which have been raised by Senators, I will seek to address through an amendment. I am appealing for cross-party support for this very important legislation."
Advertising of Alcohol 
The Bill also seeks to de-normalise our cultural love affair with alcohol. Advertisements of alcohol, particularly at major events, contribute to that culture and drinks companies will not be permitted to sponsor events where the majority of participants or competitors are children or where it involves driving or motor vehicles. Psychotherapist Richard Hogan recently outlined in the Irish Examiner the significant influence alcohol advertising has on young people and their decision to start drinking:
"Family, friends, schools, wider community, and society as a whole all impact on a young teenager's decision to drink….I grew up in a time when the Premiership was called the Carling Premiership, and the Carling Cup was just another one of the trophies out there to be won. Carling is, in fact, the biggest sponsor of the league. Up until recently, the largest tournament in club rugby was known as The Heineken Cup…There's the Guinness Pro 12 and the Guinness Autumn Series. Famous Grouse have their product splashed across the Scottish jersey, Brains Beer sponsor the Welsh Rugby team, Budweiser sponsor the Football World Cup, and almost every GAA club is sponsored by the local pub."
This visible saturation of alcohol advertising in sport is not a coincidence even though the Alcohol Beverage Federation of Ireland (ABFI) claims "there is no link between sponsorship and alcohol consumption".
However in its most recent annual report, Diageo, sponsor of the Gaelic Athletic Association (GAA) and Irish rugby, attributes sales increases directly to sports sponsorship. Carlsberg, who sponsor the FAI, stated quite clearly what these marketing strategies mean for their product in its most recent report: "ultimately, sponsorships are about growing our business and driving the long-term sales of our beer brands."
Hogan criticised attitudes to alcohol promotion and its effect on our young people.
"It is inconceivable that a society with the second-highest level of binge-drinking in the world, where three people die every day from an alcohol-related illness, is supine with regard to this aspect of alcohol promotion. Maybe, one day, the Government will draft a policy that actually tackles the issue and we will no longer have to rely on this practical and sound advice: 'know the one that is one too many!' Thanks, Diageo."
Hogan also reiterates the well documented dangers of binge drinking during adolescence in his piece for the Examiner:
"The years between 14 and 25 are a time of considerable change in the human body. The brain doesn't stop growing until a person is well into their mid-twenties…Exposure to drink at this formative, developmental stage can cause lasting impairments in brain functions, such as memory, coordination, and motor skills. Not only can it damage the brain's development and functioning, but the chances of making poor judgement, for teenagers, increases significantly in a state of intoxication. Therefore, the potential for harm is dramatically increased. The likelihood of engaging in dangerous behaviour, such as unprotected sex or risk-taking, is significantly higher among teenagers who drink."
The College of Psychiatrists of Ireland is a proud member of the Alcohol Health Alliance and supports the full implementation of the Public Health (Alcohol) Bill.