Public invited to engage informally with psychiatrists for Green Ribbon month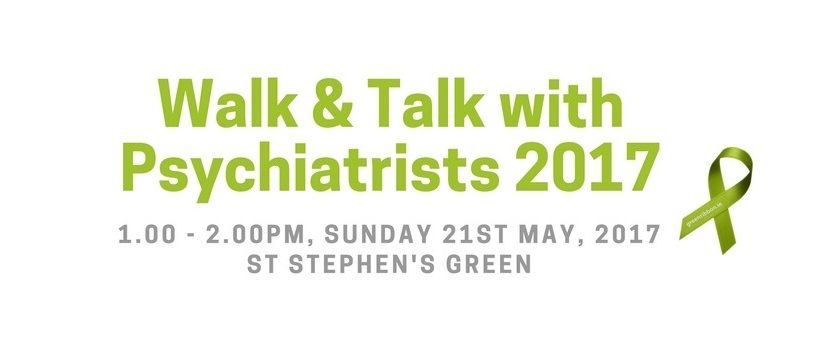 The Walk & Talk with Psychiatrists aims to challenge the stigma of Mental Health problems in Ireland
The College of Psychiatrists of Ireland (CPsychI) will host its 3rd annual Walk & Talk with Psychiatrists (CPsychI) for The Green Ribbon Campaign in St Stephen's Green on Sunday, 21st of May at 1pm sharp starting at the park entrance across from the Shelbourne Hotel and ending with refreshments.
The event is run in conjunction with See Change, the National Stigma Reduction Partnership. Green Ribbon is held for a whole month, each May to spark a national conversation about mental health.
The Walk & Talk with Psychiatrists in St Stephen's Green is about getting outdoors to promote wellness and activity. It is also a chance for those who use the services, their carers and family members, and mental health professionals to mix in an informal, welcoming, supportive and social atmosphere to discuss psychiatry, in an outdoor setting.
Four psychiatrists and one user of the services will speak for a few minutes at various points throughout the walk, with discussions and questions encouraged then and along the way.
Dr John Hillery, CPsychI President & Consultant Psychiatrist, Intellectual Disability
Dr Rosie Plunkett, Psychiatric registrar, Basic Specialist Trainee, Trainee Committee Chair 2016-2018, 'Lessons in Mental Health: what being a Trainee Psychiatrist has taught me (so far)'
Mr Rick Rossiter, CPsychI REFOCUS Committee member & See Change Ambassador, 'Stigma in my life, the past & present'
Dr Verena Keane, Consultant Psychiatrist, Learning Disability, CPsychI REFOCUS Committee Member, 'Learning disability psychiatry & medical psychotherapy'
Dr Denis Eustace, Consultant Psychiatrist, Old Age, 'From Merchants to Mind Doctors – A brief historical journey from a family perspective'
CPsychI President Dr John Hillery said of last year's Walk and Talk:
Being out in open air, walking and talking together, is a demonstration of two core aspects of looking after your mental health. The fact that the walk was made up of psychiatrists, people with experience of the services and family members shows that mental health is an issue for all."
This is sure to be an insightful event for all, and is free for all members of the public.
Four College employees will also take part in the Staff Relay Series with PWC for See Change as part of Green Ribbon month on May 25th in the Phoenix Park.