Spike Milligan Public Speaking Competition 2019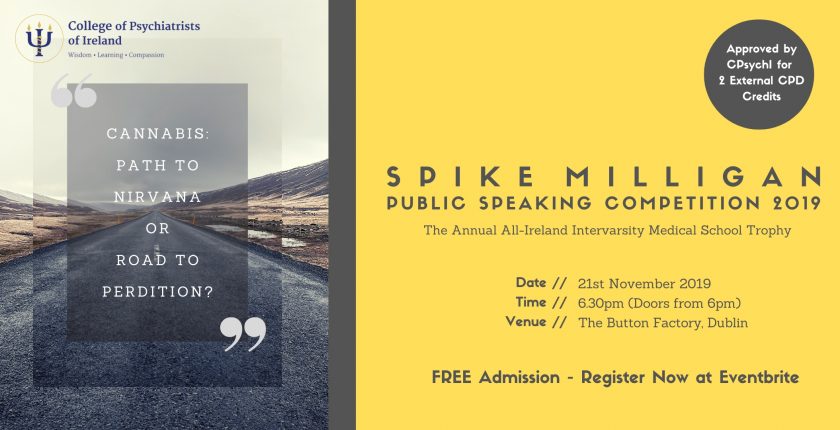 "Cannabis: Path to Nirvana or Road to Perdition" – the question this years teams will present on in the hopes of clinching the 2019 Spike Milligan Trophy.
The Spike Milligan Public Speaking Competition is an All-Ireland Intervarsity Competition for medical students which aims to foster the development of communication skills and mental health awareness, all while carrying on Spike Milligan's legacy of destigmatising mental illness.
This November, teams of two from NUIG, RCSI, TCD, UCC, UCD and UL will compete to win the 2019 CPsychI Spike Milligan Trophy along with a cash prize with teams of two speaking on the title: "Cannabis: Path to Nirvana or Road to Perdition? "
The competition was first held in 1999 as part of the Changing Minds Campaign of the College of Psychiatrists of Ireland, and aimed to address the stigma associated with mental health problems. The late famous comedian Spike Milligan generously lent his name to the competition. It honours his great work as an advocate for those affected by mental ill health.
This event is open to all and completely free to attend, but places are limited so register now on Eventbrite to avoid disappointment. Make sure you are there to cheer on your university team on the night!
**Please note: if you wish to receive CPD certificate of attendance, please register with the College directly by contacting Ian Rice at irice@irishpsychiatry.ie