TCD get the cherry at 2017 Spike Milligan Public Speaking Competition for Medical Students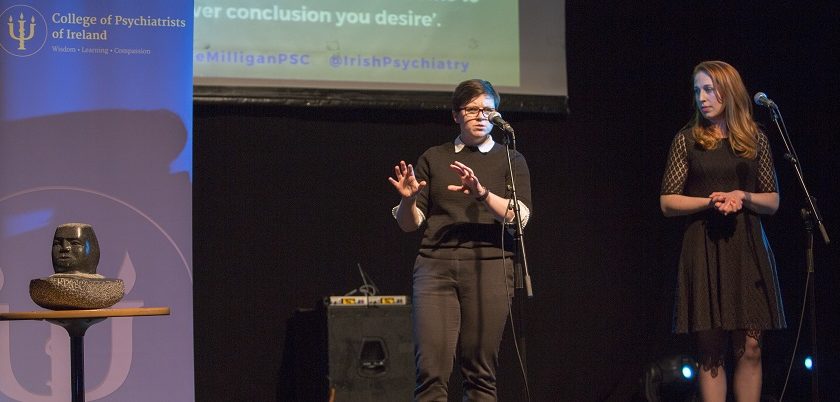 The topic 'In this era of post-truth politics, it's easy to cherry-pick data and come to whatever conclusion you desire' provided a fantastic night of compelling, thought provoking and entertaining speeches at the CPsychI Annual Spike Milligan Public Speaking Competition 2017.
Teams of two from medical schools UL, NUIG, TCD, RCSI, UCC & UCD competed for the first prize and runner up prize at the Button Factory, Dublin last night.
Medical students, Jennifer Kearns and Amy Worrall, from Trinity College Dublin, won the competition taking a cheque, complimentary attendance at one of College of Psychiatrists annual conferences and the Dick Joynt perpetual trophy as their prize. Amy encouraged future medical students to get involved:
It was an amazing competition, really insightful discussion between all the teams on the night – and there's something really pleasant about it being a public speaking competition and not a debate. If you have a bit of time spare throw your hat in and challenge yourself – it's a great opportunity and a great experience!
They faced tough competition from Eoin Graham and Michael Harrington of NUIG who were awarded the Runners-Up prize. Michael said of the evening;
It was a real honour to partake in this, we had fun and I hope that's what Spike himself would have wanted as we believe the only way to tackle mental health is to take away the stigma, and there's no better way to subvert a negative stigma than to have an empathetic laugh about it."
This College of Psychiatrists of Ireland Annual Public Speaking Competition was first held in 1999 as part of the Changing Minds Campaign, addressing the stigma associated with mental health problems. Spike Milligan generously leant his name to the competition. It honours his great work as an advocate for those affected by mental ill health.
This year the judging panel consisted of mental health advocate and CPsychI REFOCUS (Recovery Experience Forum of Carers and Users of Services) member Ms Laura Louise Condell, Dr Caoimhe Clark Trainee Psychiatrist and Prof Anthony McCarthy Consultant Psychiatrist (Perinatal and General adult psychiatry).
The aim of the competition is to foster and promote communication skills among doctors in training; with a focus on mental health. It is also an opportunity for public outreach and engagement on matters concerning mental health issues. Teams are encouraged to demonstrate clear, reflective communication skills in a way that will inspire and inform a public audience. The award is named in recognition of the late Spike Milligan's work in de-stigmatising mental illness through his books and appearances.