The Medical Independent: Report on the CPsychI/RCPsych (NI) Joint Conference 2019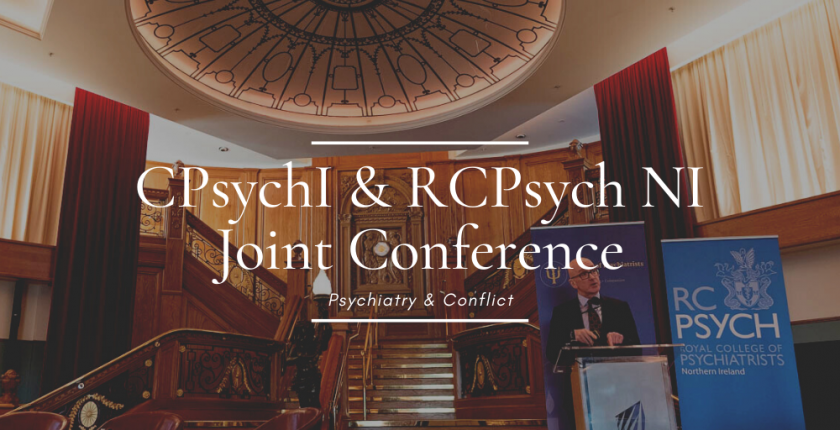 Sandra Ryan from The Medical Independent reports on the College of Psychiatrists of Ireland joint Winter Conference with the Royal College of Psychiatrists in Northern Ireland.
Read excerpts from the article below. To read the full article in The Medical Independent, click here. To read our own recap of the conference, click here.
A team of researchers from the RCSI and Beaumont Hospital in Dublin presented a new study they conducted, titled 'If you build it, they will come — Beaumont Hospital Emergency Department as a mental health referral option for general practitioners'.
The group, including Dr Cornelia Carey and Dr Vincent Russell of the RCSI and Dr Helen Barry at Beaumont, sought to investigate the extent to which GPs directly refer patients who have no urgent medical need to the emergency department for mental health reasons.
The study findings revealed that:
12 (16 per cent) of ED patients referred by GPs were recorded as having self-harmed.
137 (38 per cent) of all patients referred during normal working hours were recorded as having self-harmed
59 per cent of daytime GP referrals cited suicidal ideation, similar to the total daytime figure of 54 per cent.
A minority of patients referred for psychiatric assessment with suicidal ideation have self-harmed.
"A substantial number of patients presenting to the ED for mental health reasons could potentially be catered for by community services," the team concluded. "Our findings raise the question of whether the focus on the ED in the national clinical programme may have had the unintended consequence of normalising the ED as a locus of mental health care."
---
A second study examining referrals to EDs was presented, titled 'Dublin's Homeless Crisis: Is This Reflected in Emergency Department Psychiatry Referrals?'
Conducted by Dr Aoibheann McLoughlin and Dr Anna Feeney from the Central Mental Hospital and Dr Jamie Danaher and Dr John Cooney from St James's Hospital, Dublin, the study aimed to explore the prevalence and impact of homelessness in an adult sample of psychiatry referrals over a one-month period in 2019 via the emergency department at St James's Hospital.
According to the authors: "Homelessness has now reached a crisis point in Ireland. The role of homelessness in amplifying mental distress and illness has been widely documented."
In July 2019, there were 10,275 people documented as homeless nationwide, with the number of homeless families increasing by 178 per cent since June 2015.
Additional findings revealed that:
The most frequently represented group were Irish unemployed males between the ages of 20-to-29.
50 per cent of homeless patients were referred to psychiatry following expressed thoughts or acts of self-harm.
Illicit drug abuse was associated with 73 per cent of homeless referrals. Alcohol abuse was associated with 47 per cent of referrals.
Of those who were referred to psychiatry, under a quarter (23 per cent) of homeless presenters were assessed as having a major mental illness, and in the majority of these cases, illicit drug and alcohol abuse were compounding factors in exacerbating symptomatology.
Personality-based difficulties and impaired coping mechanisms, in the setting of substance misuse, accounted for the majority of diagnoses (67 per cent).
Of those referred, 66 per cent of homeless presenters had been previously reviewed by psychiatry during prior ED presentations.
Over 67 per cent of homeless presenters had been previously admitted to an acute psychiatric inpatient unit (compared to 40.7 per cent of general presenters).
60 per cent of homeless presenters reported that they had previously been, or were currently linked in with, community mental health teams.
All of the referred homeless patients were unemployed and over 96 per cent reported that they were not in a current relationship.
"Our findings from this study strongly reflect Dublin city's current 'homeless crisis', as evidenced by the high proportion of homeless people referred for psychiatric assessment via the emergency department. In this report, the majority of homeless presenters referred to psychiatry were assessed as having concomitant substance misuse and personality difficulties, and had been previously reviewed by psychiatry services at both an ED and community level," the authors stated.
---
Another topic of interest at the Winter Conference was physician burnout. Dr Genevieve Crudden of the Department of Psychiatry, University Hospital Galway (UHG), presented a new study on the subject which she conducted at UHG with Dr Anne Doherty and colleagues.
Dr Crudden told the Medical Independent that significant research exists showing that burnout is prevalent among doctors, including in Ireland, and that it negatively affects the quality of patient care. She added that the team at UHG began their study as little research on burnout in consultant-level doctors has been done.
Speaking about such interventions to manage and prevent burnout, Dr Crudden mentioned international examples of best practice, including cognitive behavioural therapy (CBT), stress-reducing activities such as mindfulness and group activities, and strict implementation of work-hour limitations.
[/vc_column_text][/vc_column][/vc_row]